Good-Bye AT&T. Hello iPhone 3G on T-Mobile
August 26, 2010
Finally made the big switch from AT&T. I've written a few times about the lack of AT&T service at my house. This past month my contract finally expired so I made the switch over to T-Mobile. The best part is I'm still using my iPhone as my primary device.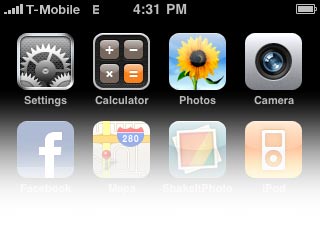 Adding on to Merredith's family plan, I'm now paying $75 less per month. I get the same number of minutes, unlimited data and unlimited text (which I didn't have on AT&T) for only $15 more per month on top of Merredith's existing bill. That's a fantastic savings, and I couldn't be happier. Oh, and that also includes tethering!
The only downside is lack of 3G service on the iPhone due to T-Mobile using different frequencies for their 3G service. Surprisingly, I really don't miss 3G. Pandora and all my other regularly used apps still run as expected. I can still stream SomaFM on the 'High Bandwidth' setting without breaks in service.
If I do feel the need for 3G speed I can tether the Sony Ericson TM717 that came with my account to my laptop and surf that way.
But best of all, I actually get uninterrupted voice and data service at my house. T-Mobile's coverage is much better in that regard.
T-Mobile was also very easy to deal with in the store. They were able to tell us exactly how much everything would cost.
All-in-all, I'm very happy to be on T-Mobile. The service is excellent and I can actually use their product at my house. Imagine that!