The True Cost of Owning a Car
This afternoon I went through all my service and repair records and added up the total cost of owning my 2000 Jetta over the past 6 years/107,000 miles (145,000 total). The total cost was just under $7,300. That comes to approximately $1,200 per year and $100 per month.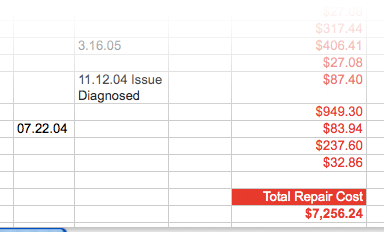 A lot of that cost is normal maintenance such as tires, oil changes, battery, etc. Some of the bigger repairs have included a throttlebody replacement, water pump, 2 catalytic converters, and axle replacement.
The engine and transmission themselves have been fantastic on this car. It's been the surrounding components that have developed the most issues over the years.