What would iPhone look like?
With all the iPhone speculation, I thought it would be fun to take a crack at what form such a device might take, and how it would function. Let's look at iPhone using the classic adage of "form follows function."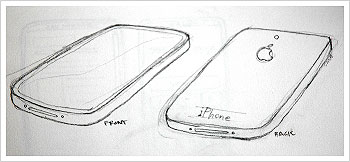 Function - Information on the go.
There's a big difference between the core function of an MP3 player and a phone. That difference is most notably: Push vs. Pull. An MP3 player pushes media (music, video, podcasts), while a phone actively pulls in information (meeting times, the latest gossip).
So, let's look at iPhone sans MP3 player. This means the device is all about communication and information.
Instead of "browsing the web," iPhone would probably function like a mini desktop computer with many different applications or widgets delivering specific information. Mini apps like a mail reader, and an RSS reader would be likely. This would also open up the possibility for other vendors to write applications for the iPhone. A Fandango movie time application/widget, and a Google Maps application, for example.
So, with the functionality of iPhone defined as an information device, how would such a device take form?
Form - Simplicity
iPhone would be a brick style phone, thin and about the size of an iPod. This eliminates moving parts like hinges that take up space and junk up the phone.
As an information device, you have to be able to read the information. A large screen would be in order, covering the entire front surface of the phone.
No physical buttons. A touch-screen would guide your way. (Think Jeff Hans' demonstration on a smaller scale.)
A tiny pinhole on the back for the camera lens.
No physical plugs. Any accessory items would connect via Bluetooth.
No battery access. Customers that would buy an iPhone replace their phones so often, by the time the battery needed to be replaced, it would be time for a new phone.
The interface would be insanely simple. A mobile version of OS X with a desktop background and a scrollable dock of applications at the bottom of the screen.
No pen or stylus. Using those devices is akin to cross-stitching. Just simple scrolling movements and key presses using your fingers and thumb.
Of course, iPhone would easily sync with iCal and Address Book.
What about the iTunes tie-in?
This is where the latest iPod revision will enter. Think a Wi-Fi chip giving iPod the ability to buy music without the need of a computer.
We'll see what happens on Tuesday!