My Bloody Valentine went very well. A large crowd was on hand for a good portion of the evening. It was also good to see Jim and Emily again. The East Nashville area has really improved as of late.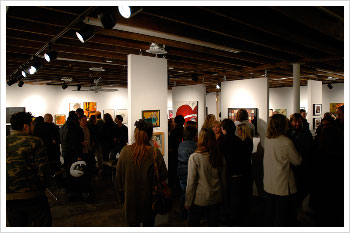 I was late to post the show photo because I've been busy working with Ernie on an update to Candor Gallery. Hopefully later this week the new version will be released. This version will include a Previous button on the widget, but also a gallery on the website that will display all the works and artists with links to their respective websites. All this in a nice browsable setting. So look forward to that very soon!
For all you Nashville folks, I received an email pointing me to iBegin. There's limited listings at the moment, but the site certainly has potential.
Now I must return to Candor and the world of CSS goodness...
---